HCRH is the acronym for Historic Columbia
River Highway.
Contact: GorgePedal.com
Cycling in the Columbia River Gorge, OR & WA
Remember: the last mile of the day
is longer than the first mile !
Think Transit
Cick here to look at taking transit to the cities within the Gorge or even to trailhead!
Site still under construction.
Not all references are completed.
Should be fact checked by Memorial Day, 2023
Family Rides on Trails Only
Five Trail Only Rides w/ Round Trip Mileage

Experienced Family Rides on Trails and Low volume of Cars

Three Trail & Hwy Mixed Rides w/ Round Trip Mileage
Click on Ride to see details & Map

Confident Riding on Historic Columbia River Highway and Trail
Long Distrance Rides w/ Round Trip Mileage
Click on Ride to see details & Map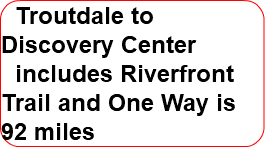 Personal Note about cycling in the Gorge
~ AJZ
These Rides on busy, congested highway sections, low volume roads, and protected trails.
The protected cycle and pedestrian paths are absolutely lovely all year round.
The Gorge is a living earth. The 2017 Eagle Creek fire healing continues and delivers us new landslides routinely. Heads Up.
The congested section is dangerous for several reasons: there are curves without sight-lines, there are distracted vehicle drivers; there are recreational vehicles whose driver skills are new in handling large vehicles on narrow roads; there pedestrians on the highway who open car doors into traffic lanes, scofflaw parking is everywhere; there are landslides on both trails and highways; there is sunshine temporally making it difficult for drivers to see cyclists in the glare; there is debris in the road and trail that can upset the cyclist and can cause a hip breaking fall or spinal injury of serious life altering consequence.
The joy of cycling is the balance of confidence, predictability, skill, and risk. As a 73 year old writing this with thousands of miles since riding from NYC to Illinois as a 25 yr, and riding from Oregon to NYC as a 30 yr. My recent riding has been in El Salvador, Honduras, multiple European countries, and many more cities in America.
I know balancing the combination of my aging confidence to risk for my personhood. I continue to cycle in our Gorge backyard.
Confidence is a state of being clear-headed: either that a hypothesis or prediction is correct, or that a chosen course of action is the best or more effective. Confidence comes from a Latin word 'fidere' which means "to trust"; therefore, having self-confidence is having trust in one's self in the context of survival.
Cycling confidence is dependent on predictability of others and yourself and your skills in handling your new bicycle or your old cycle under many circumstances.
Know yourself, your cycle, your own traffic skills, and your expectations.